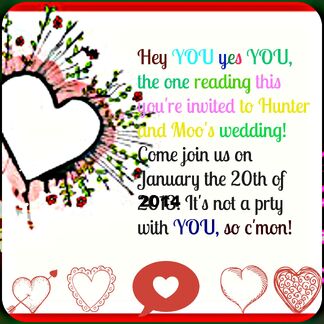 And we have yet another spectaculous ceremony that shall be put together by non other than Miss 4evs. My daughter is getting married to Sir Moodle. He is an honorbale cow dragon and I approve even if I never know what he's saying. If you do not agree with your spots that have been chosen for you at the bottom, please feel free to comment below and I will cross your name out.  I have decided the date of the wedding shall be the SAME DAY AS THE VALENTINES PARTY WOOP WOOP RAISE THE ROOF~!

Groom: Moodle
Bride: Hunter
Wedding Planner: Sibby (me)
Bridesmaids: Nicky, Days, Maze, Piper, Gail...
Flower Bunnies: The Bunnies (Ash & Dany}
Best Man: Jason 
Ring Bearer: 
Maid of Honor: Doppy
Priest: MattS.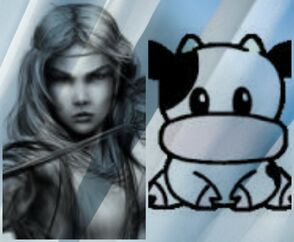 Ad blocker interference detected!
Wikia is a free-to-use site that makes money from advertising. We have a modified experience for viewers using ad blockers

Wikia is not accessible if you've made further modifications. Remove the custom ad blocker rule(s) and the page will load as expected.