Hi! I'm Taito here, and I'm one of the CEOs of Shisi Reviews. We're here to critique and help everyone improve, no matter how harsh it is. Because guess what: harshness is apart of life.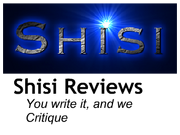 Goal of SHISI
The Number 1 goal of Shisi is to stop people from lying on terrible stories. And to actually help improve them. That is called "critiquing". Some may try to push it off as bullying or just being mean, but hey. Guess what? We're here to help you. However, if you do disagree with our methods, you can always disable our service by commenting here.
SHISI System
Here at Shisi, you can basically call us your teacher. Our grading system is x/50, or x out of 5 stars. This is the grading system:
x/10 for Plot (If you get 10, that's 1 star)
x/5 for Charcater Development (Gary and Mary-Sues/Stus automatically get a zero)
x/5 for Punctuation.
x/10 for grammical corrections
x/10 for uniquity 
x/10 for Story draw-in.
Critiquers
At the moment we are  looking for people to review stories with us. We have two critiquers:
These critiquers DO NOT CARE WHAT YOU SAY ABOUT THEM AND HOW YOU FEEL ABOUT YOUR REVIEW. IT IS THEIR JOB. DO NOT FLAME THEM FOR SUCH. Do not try to pose as one, as our critiquers end their reviews with: ~*You have been Shisied*~ and 'SR has reviewed this story'. If you feel someone is posing as a Shisi Critiquer, let Taito or Sib know.
Subscription
If you want Shisi to review your story, leave it in the comments. If you want them to review A chapter of your story, leave it and the link to your chapter in the comments. If you want us to review a character, leave us a link in the comments. We will soon have a page for this, hopefully.
AS THE SUBSCRIBER, IT IS YOUR JOB ENTIRELY TO LET YOUR DESIGNATED CRITIQUER KNOW IF YOU HAVE MADE A CHANGE/UPDATED A PAGE. WE WILL NOT MONITOR YOUR PAGE. UNLESS WE'RE BORED.
Job Positions
If you wish to join Shisi, please message Taito or Sib. It will be discussed from there in privacy.
Extra
WE EXPRESS THAT YOU DO NOT HAVE TO FOLLOW OUR ADVICE. 
ALL reviews will be written in a proffessional way. If you feel a critiquer is not being professional, let us know immediately. 
Updates
Ad blocker interference detected!
Wikia is a free-to-use site that makes money from advertising. We have a modified experience for viewers using ad blockers

Wikia is not accessible if you've made further modifications. Remove the custom ad blocker rule(s) and the page will load as expected.