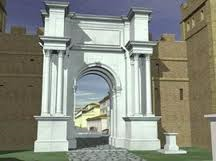 Welcome to Camp Jupiter! This is the main entrance to the camp and it is guarded with scorpian ballista, praetorian guards, and the border god Terminus so don't show up unannounced. Demigods, make sure to wear your camp shirts when entering these gates.
Roleplay-
Edit
Ad blocker interference detected!
Wikia is a free-to-use site that makes money from advertising. We have a modified experience for viewers using ad blockers

Wikia is not accessible if you've made further modifications. Remove the custom ad blocker rule(s) and the page will load as expected.