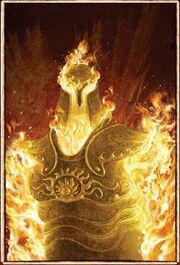 Hyperion is the Titan of the east, the lord of light, and the sun Titan.  In The Last Olympian, he was one of the attacking Titans, in Kronos' army, but was defeated when Grover turns him into a tree. In The House of Hades, he was reforming, but was delayed by Bob (Iapetus). He appears again at the end if the book, recalling memories with Bob about 'the old days' when they pinned their father down and killed him. The two brothers exchange unflattering comments while still seeming a bit friendly. They leave when Bob offers to hold the Doors of Death.
Ad blocker interference detected!
Wikia is a free-to-use site that makes money from advertising. We have a modified experience for viewers using ad blockers

Wikia is not accessible if you've made further modifications. Remove the custom ad blocker rule(s) and the page will load as expected.