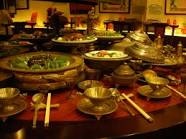 The Feast of Fortuna is a Roman tradition represtented by Tyche.
Description
Edit
The Feast of Fortuna is held once a year, to decide for Roman demigods to have good luck or bad luck, depending on what happened that day. They believed that whatever good or bad came upon them, it would happen for the rest of the year. It is also the day new Praetors can be elected. Tyche the goddess of good fortune helps with that day.
In the Son of Neptune, when Percy Jackson appeared at Camp Jupiter he made the mistake of saying when the Feast of Fortuna was introduced to him, "You have a feast for tuna?" Later, in the book the day the giants attack the Camp and New Rome is on the Feast of Fortuna. However, if they defeat the giants that could be considered a symbol of good luck.