Charmspeak
is a rare ability for
demigod
 children of
Venus
. The ability allows them to have certain powers of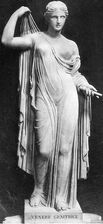 manipulation, letting them convince people to do things. 
Known users
Edit
Piper McLean, daugher of Aphrodite and Tristen McLean. (famous moviestar) 
Drew Tanaka, daughter of Aphrodite.
Medea, daughter of King Aeetes of Colchis, niece of Circe, and granddaughter of the sun god Helios. 

 

Circe, daughter of Hecate
Though it is said to be a power of Venus' children, those who have magical abilities are also capable of using it.
This ability can be used on mortals, spirits, monsters, demigods, Titans and even gods.