Apollo
is the
Roman
god
of the Sun, Light, Archery, Medicine, Darkness, and Poetry. He is the twin of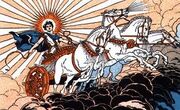 Diana
. 
Apollo


Vital statistics
Title
God of archery, healing, music, poetry, prophecy and the sun
Current Age
Immortal
Gender
Male
Family
Jupiter - Father

Latona - Mother

Diana - Twin

Hair Color
Blonde
Eye Color
Blue
Other
Affiliation
Olympians
Status
Immortal
Weapons
Bow and Arrow
Home
Olympus
Greek form
Edit
Unlike the other gods, Apollo's Greek form is almost exactly the same. He keeps is name, and is more militaristic, which differs him from other gods, as they usually become more militaristic when Roman.
Known Children
Edit
Greek:
Will Solace
Michael Yew
Lee Fletcher
Austin
Kayla
Roman:
Abilities
Edit
Ad blocker interference detected!
Wikia is a free-to-use site that makes money from advertising. We have a modified experience for viewers using ad blockers

Wikia is not accessible if you've made further modifications. Remove the custom ad blocker rule(s) and the page will load as expected.